Flying the DJI Mavic 2 Zoom, one of the best all-around consumer quadcopters, is a treat. Flying it at a substantial discount is a treat with chocolate sauce and a cherry.The Mavic 2 Zoom Refurbished I flew is available at a $270 savings compared to the brand-new Mavic 2 Zoom. By going refurbished, you pay just a bit over $1,000. Compared to a Mavic Pro Refurbished, the savings is $200.It was fast and stable, and it had good range, extended flight time, and imagery with excellent color separation and low noise.

What Is Refurbished?
A refurbished product was returned by the original buyer, then examined for defects and upgraded to like-new condition. It gets a new serial number—one ending in R—and new packaging.
The one-year warranty is the same as for a new drone, with one exception: If you decide to send it back, it can be exchanged only for another refurbished product, not a brand-new one. Good deal.
Zoom Lens Camera
The Mavic 2 Zoom delivers high-quality stills and video—just not quite on the level of what the Hasselblad camera produces on the Mavic 2 Pro. The Pro has a 1-inch sensor; the Zoom has a 1/2.3-inch sensor, less than half as big. While the Pro shoots 20MP stills, the Zoom captures them in 12MP. Both can achieve 48MP in DNG RAW,bit be prepared to edit for rich color. Both capture 4K video at 30 frames per second and if you want slow motion, 2.7K or 1080p @ 60fps.
The Mavic 2 Zoom's advantages are a lower price and the 2x optical zoom lens. The$699 Parrot Anafi has a 2.8x zoom, but it's digital, not optical, and its camera is not nearly as sharp as the Mavic 2 Zoom's. Optical zoom alternatives are upmarket pro models—the DJI Inspire 2 is three times the price and the Matrice 200 series is even more, before you add a telephoto camera. The Autel Evo II, closer in price, has a 4x digital zoom. Mavic 2 Zoom has a 2x digital zoom and 2x optical, making its total zoom capability 4x.
At my command, I could change the camera from a 24mm (35mm equivalent) wide-angle view to a 48 mm telephoto, even while flying.The telephoto isn't a must, but I found it useful. I could zoom in on wildlife, a pet or an easily distracted child by using the telephoto instead of flying nearer the subject.It's great for sports, too.
Capable Flyer
The Mavic 2 Zoom can top 44 mph, near the top speed of the Phantom 4 Pro V2.0,considered an entry-level professional drone.
You won't find more capable obstacle detection or avoidance in any drone near this price. Mavic 2 Zoom has obstacle sensors in all directions. It's smart enough to avoid an obstacle and return to its original path. That makes it very safe when flyinga utomated Quickshots. Mavic 2 Zoom also can shoot time lapse, hyper lapse andmotion lapse. It can even shoot a Hitchcock-like dolly zoom, sometimes called the"Vertigo" effect for its use in the classic film.
Active Track 2.0 is highly effective, following moving objects up to 40 mph. It can be used with the telephoto setting. It is less affected by interference, such as trees, than the Mavic Air 2. With its obstacle avoidance, it will go around, over or under an obstruction—while following a slow-moving target. And although it can calculate a subject's trajectory, when that trajectory changes—say, a car on a twisting road partially obscured by a canopy of trees—it could lose the subject.
The extended range is 6 miles since a July firmware update, somewhat shorter in the real world of trees and hills, but now equal to that of the lower-priced Mavic Air 2.My signal was strong, and if it automatically switched between 2.4 and 5.8MHz—something Mavic 2 can do—I never noticed. The promised 31-minute flight time is more like 25 or 26 minutes, still quite good. The comparably priced Autel Evo 2 has marginally longer range and flight time.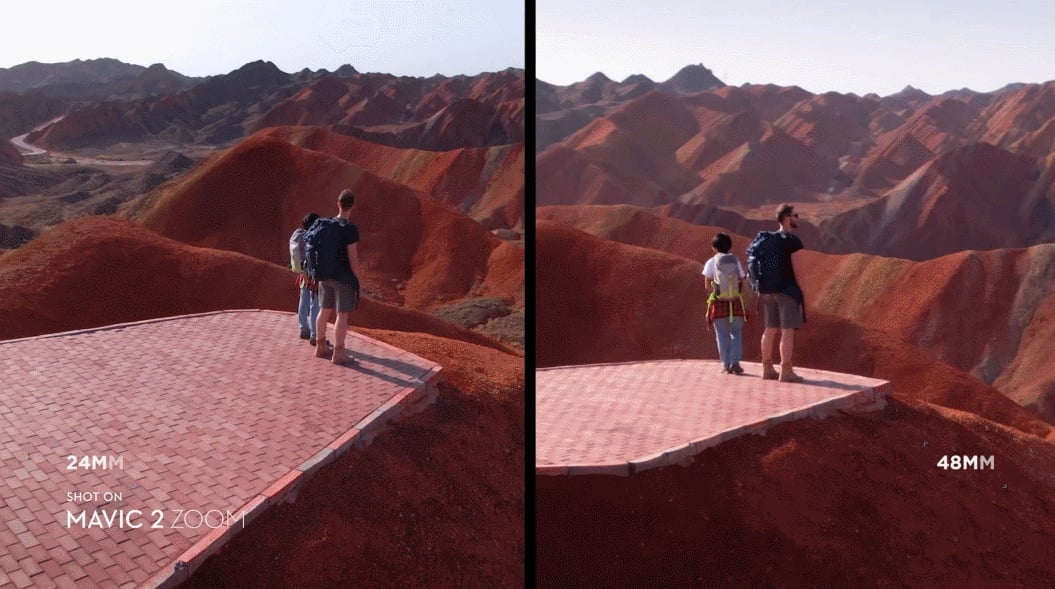 Professional Uses
The consumer-targeted Mavic 2 Zoom could be useful for some professional and business users, especially home inspectors, roofers, remodeling contractors and insurance claims adjusters. All could get a better look at hard-to-reach construction details using the zoom lens. It could also benefit developers, building contractors,wedding and other professional photographers and videographers, vloggers and news and event websites.