Be ready to capture the moment whenever and wherever inspiration strikes!
Unfold, snap-in, and start rolling. Osmo Mobile SE's lightweight foldable body and magnetic quick-release design make it easy to carry and capture at a moment's notice.



Say hello to the newest addition to the Osmo Mobile family from DJI, the Osmo Mobile SE. Lightweight, foldable, and seriously compact, the new OM SE is the perfect, easy-to-carry companion to bring your content to the next level!
Whether you are already familiar with using gimbals or are completely fresh, an entire array of smart and intuitive features is packed into the OM SE to help you get up to speed and create expert-level content. The first and probably most utilized feature is how quick it is to unfold, clamp in your smartphone, and get right into shooting. Memorable moments and exciting events rarely last longer than a few seconds and having a tool ready to capture at a moment's notice is an invaluable asset!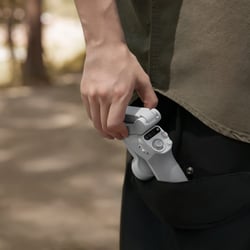 Getting into more of the technical features you can find on this new gimbal, the Osmo Mobile SE has a 3-axis stabilization system paired with a high-torque brushless motor meaning that it is prepared to work with any size/weight smartphone. Additionally, it has the latest generation of control algorithms that ensure its ability to reduce camera shake and create 'buttery smooth' footage.
Sounds pretty good right? Well, that's barely even scratching the surface of all this gimbal can do! Another key feature onboard the OM SE is ActiveTrack 5.0 technology. With this newly optimized algorithm, your gimbal can track stably at longer distances while keeping your subject center frame. ActiveTrack can also quickly resume tracking even if the subject is briefly blocked and re-enters the frame.
DJI also packed a variety of shooting modes into the Osmo Mobile SE including Timelapse, Motionlapse, and Hyperlapse which can take condensed clips and turn them into stunning videos. It is also quick and easy to have the gimbal reposition your smartphone to ensure the angle is just right whether it's in follow mode, FPV, tilt-locked, or even SpinShot for dynamic footage.
Beyond these shooting modes, the OM SE has even more options to allow for endless creative ideas! Use DynamicZoom to give any shot a unique sense of depth; take group photos where no one is left out or unassisted solo shots using GestureControl; even capture breathtaking scenery utilizing the Panorama feature. The sky is the limit for your content when using the new Osmo Mobile SE, so make sure to grab yourself one and be ready to shoot like a pro whenever and wherever you may go!

The DJI Osmo Mobile SE is available now at Drone Nerds. Check it out here.

In the box:
DJI Osmo Mobile SE
DJI OM Magnetic Phone Clamp 3
Grip Tripod
Power Cable
Storage Pouch