Experience next-level imaging performance with the latest in the Mavic series from DJI — Mavic 3 Pro.

The Mavic series drones from DJI have long been the standard for drone and camera enthusiasts alike. With the combined performance of Hasselblad high-definition cameras and DJI's industry-leading onboard features, it's hard to find a better all-around drone on the market.

Now say hello to the brand-new Mavic 3 Pro, the latest offering from DJI designed to take the next step forward in consumer drone innovation!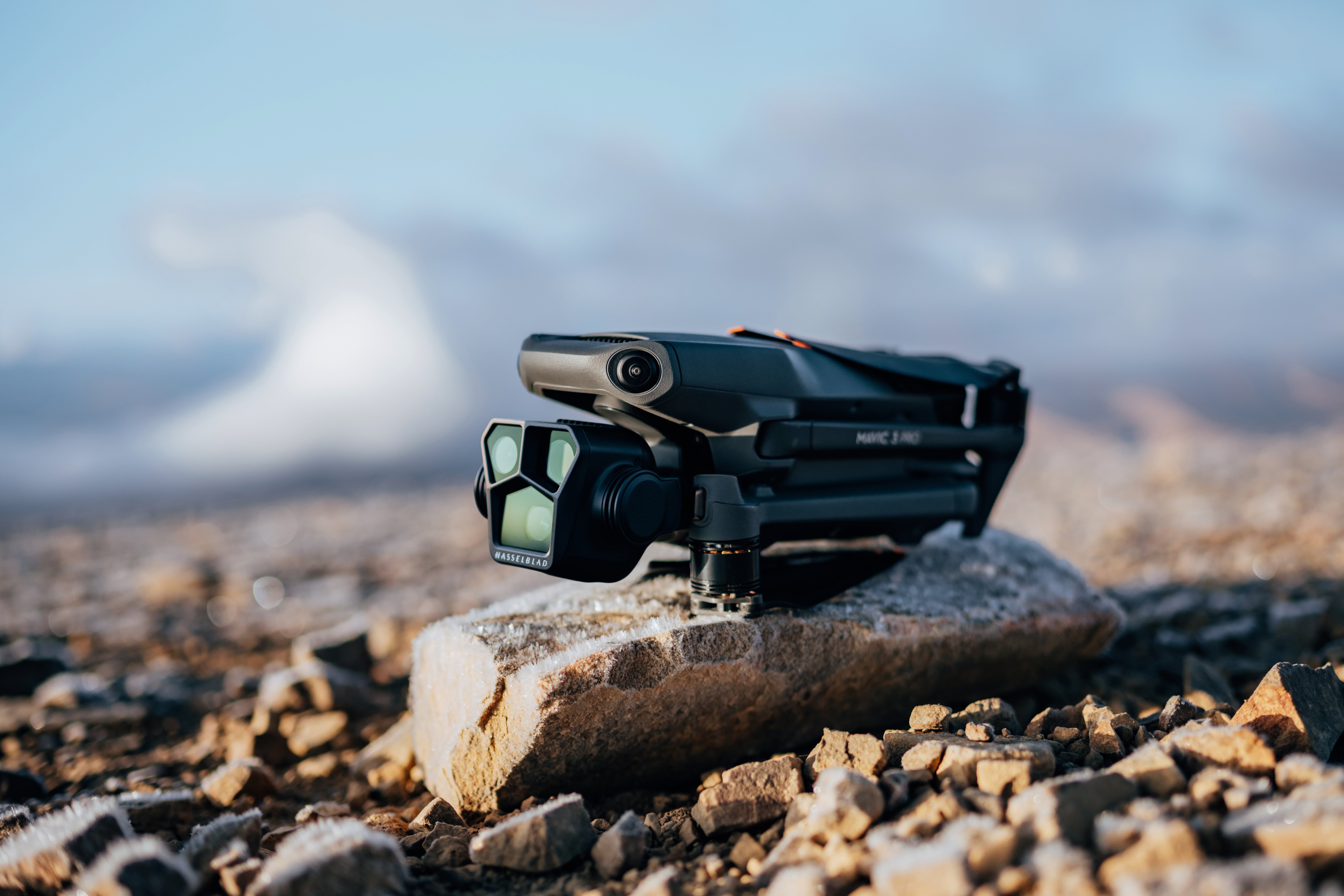 Tri-Camera System
Unrivaled Tri-Camera Flagship Imaging

One camera drone, three lenses, and infinite imagination. Mavic 3 Pro's triple-camera system ushers in a new era of camera drones by housing three sensors and lenses with different focal lengths.
Equipped with a 4/3 CMOS 20MP Hasselblad camera, 1/1.3" CMOS 48MP Hasselblad tele camera with 3x optical zoom, and 1/2" CMOS 12MP Hasselblad tele camera with 7x optical zoom allowing up to 28x hybrid zoom; Mavic 3 Pro is a triple-camera drone that unlocks new shooting perspectives to help turn inspiration into ingenuity.
You can also tap the display to switch between various focal lengths and easily incorporate distinct composition styles for different scenarios allowing you the creative freedom to capture fascinating scenery, explore photographic storytelling, and make cinematic masterpieces.

Versatile Video Possibilities
Through the Hasselblad cameras, the Mavic 3 Pro can capture a wide range of content to suit pilots' needs. The new 10-bit D-Log M color mode supports recording up to one billion colors. Even in high-contrast scenarios, like sunrises and sunsets, it delivers natural color gradations with delicate details for a full-spectrum visual experience.
In addition, D-Log M mode reduces the difficulty of color grading, allowing you to fully enjoy efficient post-production without losing quality or image clarity. Additionally, The upgraded tele camera on Mavic 3 Pro features higher resolution and a wider f/3.4 aperture. It supports shooting 4K/60fps video with 7x optical zoom and 12MP photos.
Industry Leading Performance
Fly Longer, Sense More
Mavic 3 Pro is packed with features that improve upon the Mavic 3 series capabilities. First of which is Mavic 3 Pro's ability to provide up to 43 minutes of flight time even with 1080p/60fps HD live feed that can reach a distance of 15km with DJI O3+ transmission.
It also has onboard omnidirectional obstacle sensing which utilizes eight wide-angle vision sensors that work seamlessly with a high-performance vision computing engine to precisely sense obstacles in all directions and plan a safe flight route to avoid them.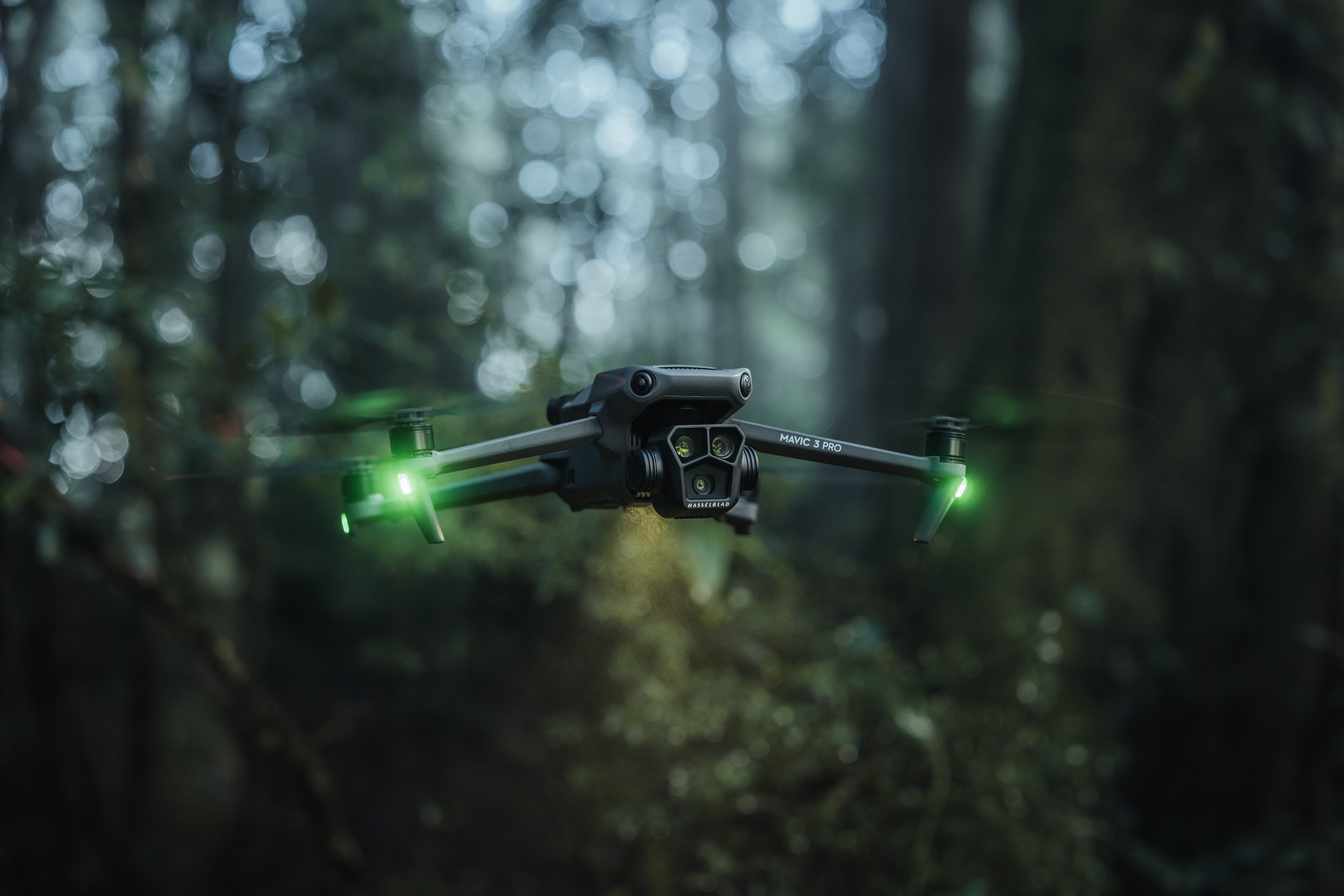 Advanced Automated Options
DJI Mavic 3 Pro also has many available automated features that can simplify the flying process and allow pilots to focus on capturing their desired content.
Utilize Waypoints to set up a specific path for the drone to follow and repeat for later flights.
Enable Cruise Control to have the drone continue along its direction and maintain steady flight for smooth camera shots.
Advanced Return to Home is an auto-return function that allows Mavic 3 Pro to automatically determine a safe and efficient flight route back to its home point.
Intelligent Features
Endless Shot Possibilities
The Mavic 3 Pro system also has an impressive array of intelligent shot features available to expand its potential.

Utilize the Panorama mode to compose a 100MP lossless panorama photo that captures breathtaking landscapes.

Take advantage of FocusTrack, which includes ActiveTrack 5.0, Spotlight, and Point of Interest, enabling stable tracking shots in multiple directions.

You can also employ Quickshots or Mastershots to automatically shoot, edit, add soundtracks, and generate cinematic footage afterward and perform diverse camera movements.
Diverse Accessories, Stunning Flight
Beyond the Mavic 3 Pro itself, DJI has many accessories available to boost the content and capture possibilities.
The ND Filters set and Wide-Angle Lens can help creators change the FOV and capture footage/images at slower shutter speeds for unique perspectives.
There are also additional batteries, charging adapters, and charging hubs available to help keep the Mavic 3 Pro in the air and maximize capture time so you never miss a moment!

Regardless of previous flying experience, the Mavic 3 Pro is a platform designed to give you industry-leading performance and unlimited possibilities.
Now available for purchase, get your Mavic 3 Pro today and become the envy of everyone in the sky! Check it out here.
DJI Mavic 3 Pro
DJI RC
DJI RC Control Sticks (Pair)
DJI Mavic 3 Intelligent Flight Battery
DJI Mavic 3 Low-Noise Propellers
DJI 65W Portable Charger
DJI Mavic 3 Pro Storage Cover
DJI USB 3.0 Type-C Cable

Take a look at the consumer drones available on our website to find the right drone for you!

Still have questions? We have more resources available on our blog and you can always reach out to the experts!