DJI officially launched a new generation of professional gimbals—the RS 3 series—as a step up from the RS 2 product line. Positioned as a prosumer product, the RS3 and RS3 Pro are designed to fit the needs of photographers, filmmakers, and solo creators that need camera stabilization while shooting dynamic film.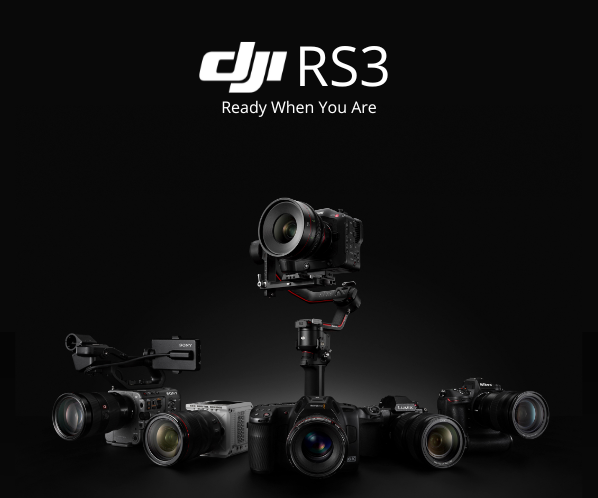 The DJI RS 3 is light and sleek, weighing only 2.8 lbs., or 1.3 kg, and can support payloads up to 6.6 lbs. (3kg). Both gimbals have a 12-hour operating time, and support 2.5-hour fast charging, allowing users to shoot or film continuously throughout the day. Its main selling point is its quick-release plates, which make it easy to swap cameras without needing to rebalance the gimbal after changing batteries or memory cards. The RS 3 is designed to give creators more control over their gear while offering professional-grade stabilization.

The new DJI RS 3 has a larger 1.8" OLED touchscreen, compared to the 1.4'' LCD full-color touchscreen of the RS 2 series, 20% improved stabilizing performance and automatic axis locks. The automated axis locks differentiate the RS 3 series from the RS 2 predecessors, which had manual axis locks. The new automated axis locks allow for quick shooting and easy transport, as the axes unlock at the same time the gimbal expands after touching the power button. Once a user is finished, they can send the gimbal into sleep mode by pressing the power button again.
By comparison, the DJI RS 3 Pro can carry payloads up to 10 lbs. (4.5kg), with longer arms to hold larger cameras and a LiDAR focusing system. The LiDAR system is a fan-favorite feature, as it offers multi-point focus, compared to the 3D single-point focus system of the RS 2. The new LiDAR focusing system allows cameras to achieve greater autofocus while shooting in dynamic environments. The LiDAR system projects 43,200 ranging points within a 14-meter indoor area to provide an accurate 3D map for autofocus. The range finder has a built-in 30mm camera, which enables ActiveTrack Pro for sensitive target identification and tracking.

Compared to the RS 2 series, which only had a shutter release cable, both the RS 3 and RS 3 Pro have the shutter release cable and support wireless shutter control via Bluetooth. The Bluetooth connection allows users to control both photo and video functions by pressing the record button on the stabilizer, which makes shooting on the go more efficient.

It's pretty clear that the RS 3 product line is a complete upgrade from the RS 2 series predecessors. While both series gimbals are efficient tools, the RS 3 grants creators the liberty and flexibility of shooting at a moment's notice.

Ready to upgrade? Check out the RS 3 product line here.

Here are some of the compatible cameras:
Canon R5
RF 24-70 mm F2.8


Sony FX3
FE 24-70 mm F2.8
Sony A7M4
FE 24-70 mm F2.8
Nikon Z 6II
Z 24-70 mm F2.8