DJI is starting the year off strong with two brand-new launches for content creation. As an addition to their RS3 gimbal series, DJI launched the RS 3 Mini—a travel-sized stabilizer that allows solo cinematographers and creators to work with large payloads, like the ​​Sony A7S3 + 24-70mm F2.8 GM lens. Many users will also find capturing audio on-the-go is easier and clearer with the new DJI Mic (1TX + 1RX).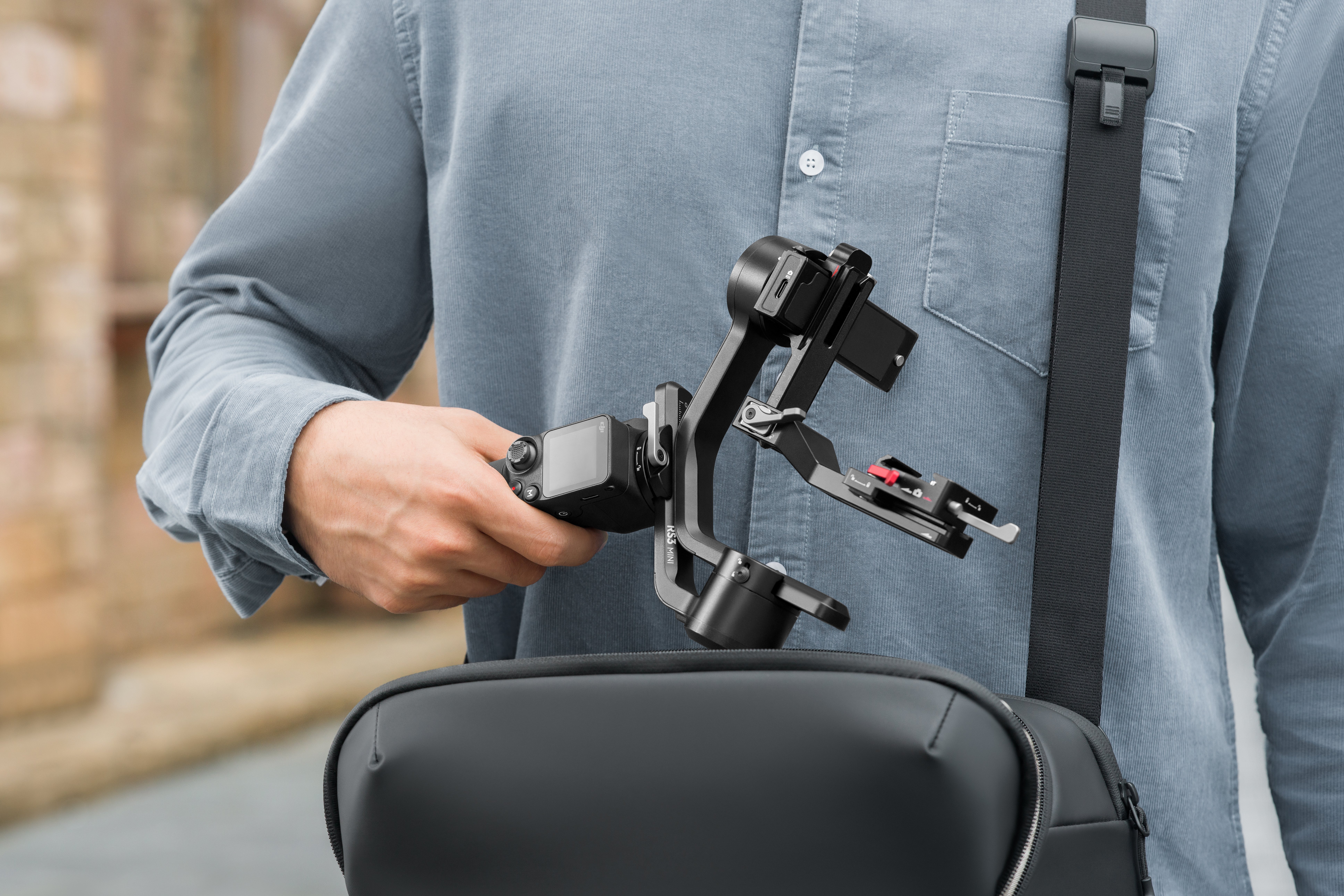 RS 3 Mini weighs only 795 g (1.75 lbs) In Portrait mode, the RS3 Mini is about 50% lighter than RS 3 Pro and 40% lighter than RS 3, weighing only 1.75 lbs. The RS3 Mini is ergonomically designed with a smaller build and concentrated center of balance that features an integrated battery, and native vertical shooting capability. It's compact and can fit into a shoulder bag for light travel, and equally as convenient for long shooting sessions with minimal wear on the user.

The integrated battery supports up to 10 hours of runtime, and can recharge as quickly as 2.5 hours to get back to shooting quickly; it even supports use while charging.
Despite its size, the RS 3 Mini has a payload capacity of up to approximately 4.4 lbs., supporting mainstream full-frame or APS-C mirrorless cameras. This enables users to shoot with a wide range of camera and lens combinations. It's powerful and yet easy to control—its high-torque motors can retain stable shooting when zooming to max focal lengths on most lenses without the need for rebalancing.
It also features a Bluetooth shutter control, just like on the RS 3 Pro. This supports mainstream mirrorless camera models and allows RS 3 Mini to automatically reconnect with a camera after the initial pairing. Users can directly control the video recording and photo capture functions of their camera with the record button on the gimbal. When using a Sony camera with a supported digital lens, users can control the lens's optical or digital zoom via the front dial, eliminating the need for a camera control cable.
The 1.4-inch full-color touchscreen has a new UI that allows users to adjust most functions without the app and access common settings quickly and intuitively; just like the rest of the gimbals in the RS series the RS3 Mini sports an ergonomic front dial that rotates to adjust the focus, ISO, aperture, shutter, and other parameters. Users can easily control the movement of the gimbal's three axes with the front dial for a more effective solo-shooting experience.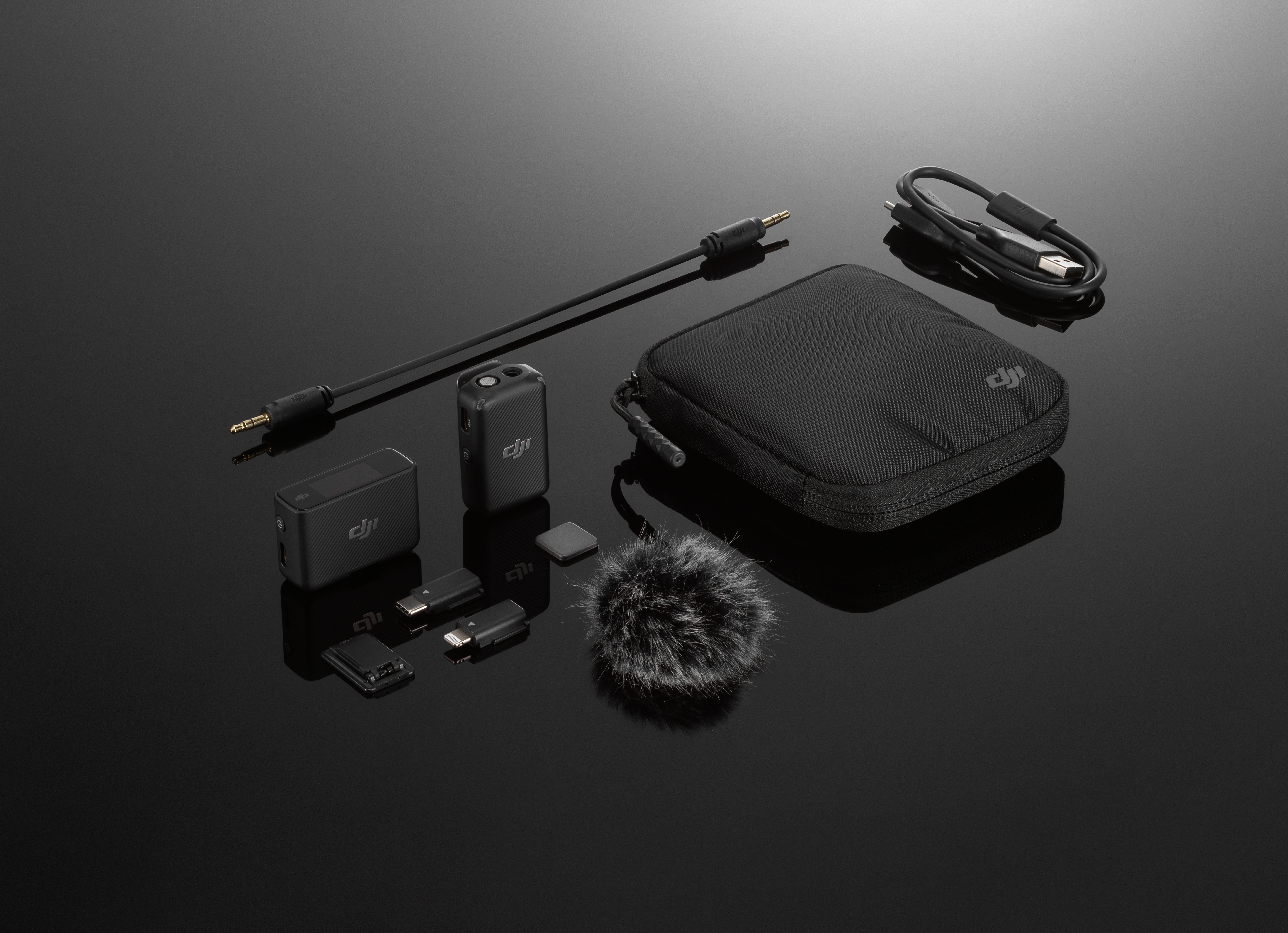 For elevated audio on-the-go, DJI has brought users the DJI Mic (1TX+1RX). It is compact, discreet, and ultra-light, clips on with powerful magnets and offers a 250m (820 ft.) range. The best part about the DJI Mic (1TX+1RX) is that is supports up to 14 hours of recording and has expansive compatibility, as the receiver has USB-C, Lightning, and 3.5mm TRS ports, making it compatible with mainstream smartphones, cameras, and laptops.

Its wireless capabilities make it extremely convenient; the entire DJI Mic system is wirelessly connected via a stable 2.4GHz frequency band, which allows users to move freely as they record any adventure, whether they are outside in dynamic settings or interviewing indoors.
It also has powerful anti-interference thanks to its optimized wireless transmission system which ensures a stable stream of audio, even in areas such as train stations, shopping malls, and offices; the microphone windscreen effectively suppresses wind and noisy environments while still recording clear sound.
DJI's new launches are designed to help creators push the boundaries of content. Check out the DJI Mic (1TX+1RX) here and the RS3 Mini here.

Happy creating!