With constant new releases, launches, and updates, keeping on trend with the latest drones and tech gadgets becomes a full-time job. Every new release becomes the shiny new toy that everyone wants to get their hands on; see how refurbished items can keep you on trend.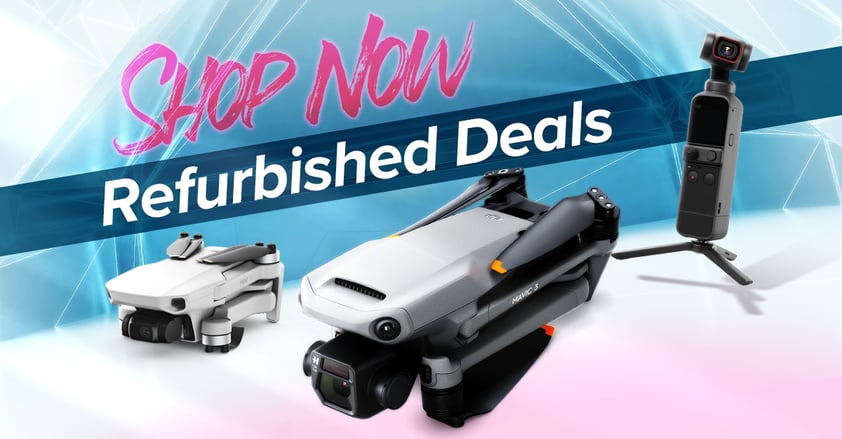 If you're after the best flight experience or most high-quality footage, then yes, it is— although some users may find it difficult to justify the price tag.
Luckily, refurbished drones offer a halfway point between owning the latest gadget and affordability.
Here are the top five reasons why you should consider purchasing a refurbished drone:
Price
Like most technology, refurbished drones are much more affordable than new inventory. Although they are fully functional, they can't be sold as "new" because of the negative stigma surrounding open-box items. This means that most refurbished items can run anywhere from 10% - 50% cheaper than on-shelf items, making it great for anyone that is either on a budget or looking for a great deal.
Quality Tested




It's true that many people believe that items that have been refurbished are of less quality. Some items that are sent in for refurbishing may have had a bug or malfunction, but the majority are returned open-box items that may have minor cosmetic flaws.

On the other hand, drones that have a malfunction and are repaired have entire parts changed and are rigorously quality-tested to ensure that new owners won't experience any issues at all.





Brands don't want to damage their reputation or lose their customers' trust—it's in their best interest to ensure that any drone that is put back on the market works like new.



Warranty
After the drone is quality tested, they are sold with a manufacturer's warranty. While the terms and conditions vary by manufacturer, customers can be assured that their drone is protected.



A warranty guarantees that the company stands behind its product and that it will correct any problems that a user might experience with either a replacement, repair, or refund.





Warranties usually cover any major parts, testing, or bug fixes, and have a similar process to insurance claims. You will need to provide proof of the damage and send in the drone for inspection.
Ecofriendly
Aside from being cheaper, refurbished drones aid in sustainability. If you want to be environmentally responsible without missing out on new technology, refurbished drones are the way to go. Many companies use recycled parts to fix a drone–this prevents waste from ending up in landfills, and lessens the number of materials used during the manufacturing process while creating new products.



Companies follow trends and the demands of the consumer; if enough people opt for refurbished or recycled products, eventually they will begin to adopt more sustainable practices.
Great for Beginners
Because refurbished drones are more affordable, they are more accessible to people who want to become a drone pilot but didn't want to risk losing their investment while learning how to fly.



Refurbished drones lower the barrier to entry into the hobby–and with a manufacturer's warranty, beginners will appreciate a worry-free flight even if they crash.
Drone Nerds sells a number of DJI refurbished products, from drones to gimbals and action cameras.